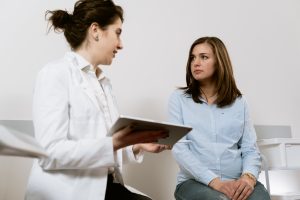 It can feel scary to tell someone else about your unique pregnancy situation and what options you're considering.
You probably have lots of questions and maybe questions about abortion and the risks. We can help with non-judgemental support, abortion information, and how to safeguard your health along your pregnancy journey.
Get Non-Judgemental Support
We know your story is not like anyone else's. We're here to listen and help you understand the risks, procedures, and precautions to take when considering abortion.
Abortion comes with emotional and physical risks that you should know about beforehand. We're here to offer non-judgemental support and clarity about your options.
Learn About All Your Options
You have more than one option regarding your unexpected pregnancy. You could be surprised to hear about the available resources in your community and at our center.
Talk to us today to learn about abortion and your other options (adoption and parenting) if desired. We create a safe place to discuss your questions and concerns freely. We never pressure women into making decisions they don't want to make.
Safeguard Your Health
When considering abortion, protecting your health is important. Get the information you need about your unique pregnancy, including how far along you are, the location of your pregnancy, and whether your pregnancy is healthy and progressing. All of this can be done with a no-cost ultrasound at our center.
We offer professional-grade pregnancy tests and ultrasounds at no cost to you because we care. We can help you resolve any pregnancy concerns or questions you have about your pregnancy.
Our team can walk you through your pregnancy options to make an informed decision for your future. Schedule a no-cost and confidential pregnancy test and ultrasound to move forward with clarity.